VIDEO STORYBOARDS FROM EXCEL
Storyboards - Create Rich Video-based Training Material Using Only your Own Excel Skills
As the workforce ages experienced knowledge workers retire and their knowledge walks out the door with them. At the same time many processes are becoming more complex and demanding higher skilled associates.
Timer Pro Storyboards provide an extremely easy to use, high quality content creation tool to meet all knowledge retention and training needs.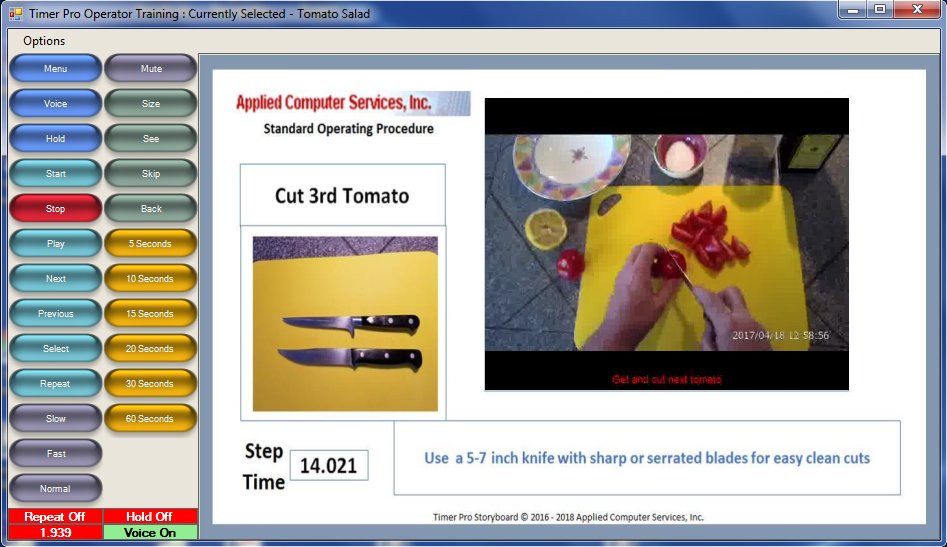 Storyboards allow you to quickly and easily create rich video based training material for all your operations using only your own Excel skills directly from line balances in Timer Pro. Absolutely no video creation and editing experience is needed.
As changes are made to a process the Storyboard automatically maintains a full revision history of all changes. Each revision can independently played at any time if required.

Timer Pro includes a Storyboard player is designed to be deployed on PCs or the new range of inexpensive (under $200 US) Windows 10 tablets. This player is completely free and can be downloaded and used by any number of users either internally or externally for the product support needs of your customers.
Storyboards can also be deployed in Excel or via the web, YouTube, Google Drive etc to workstations on the floor, Android devices, iPads and iPhones. 
Customize Your Video Storyboard Design
Timer Pro comes with an Excel template that provides a framework which you can edit and change as you wish to meet your specific Storyboard design requirements.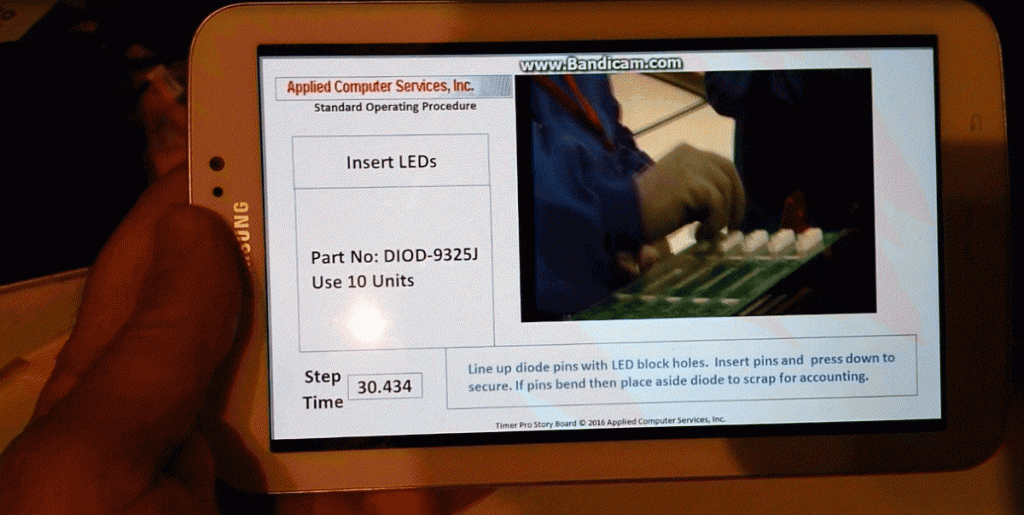 You can create any number of Storyboard designs to support your needs in different areas.
Quickly Create Training Videos Which Include Task Data and Visuals
Your process video clips from Timer Pro will automatically play in the Storyboard. You just add your own audio, play times, supporting text, instructions and graphics using Excel to create and playback a rich user learning experience without having to buy and learn any expensive video editing software.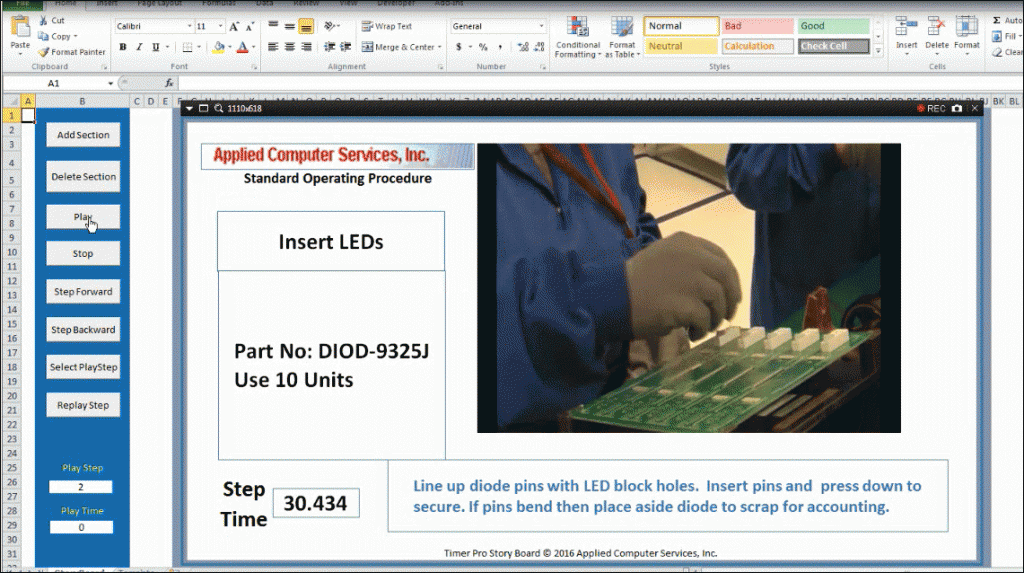 Publish Training Videos to the Internet
Using a free video recorder, your Storyboard plays in Excel and is recorded for your distribution via the Internet.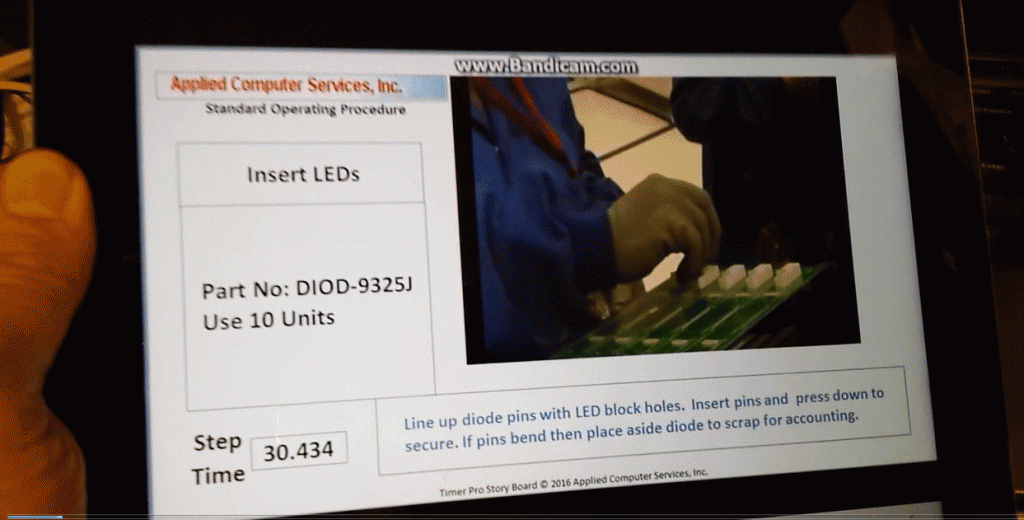 Interactive Training and Product Support
A Storyboard Publish option isolates every component of the Storyboard and creates a series of files. This is a fully automated process – no user input is required. The resulting files are placed into a folder and can be played back immediately in Timer Pro's free Storyboard Player.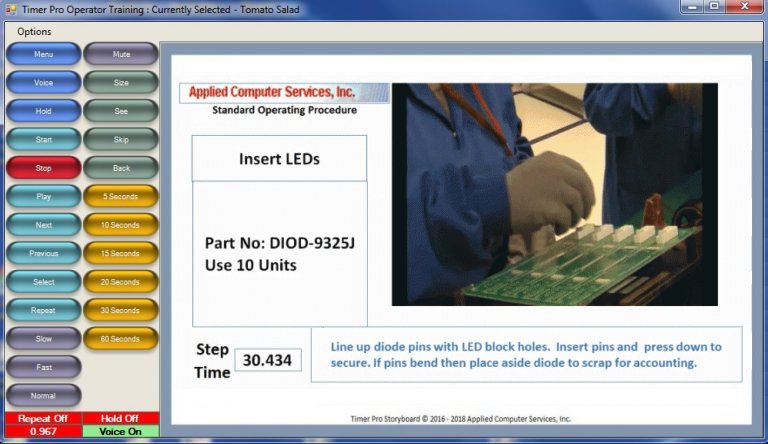 The free Timer Pro Storyboard Player can be downloaded, installed and used by anyone – both inside and outside your company. The Player can be controlled by mouse, finger touch and voice command right at the operator's work station. Multiple language support is also included.
Augmented Reality Glasses Line of Sight Training and Support
Timer Pro has partnered with Ubimax and their Frontline Wearable and Augmented Reality solutions for the popular Smart Glasses on the market that allow videos to be delivered to users directly in their line of sight.
The Storyboard content files published by Timer Pro are presented by the Ubimax application as a virtual screen to the end user as the job is being performed. This reduces training time, errors and significant increasing productivity versus tradition manuals and other online sources. Again touch and voice control is available.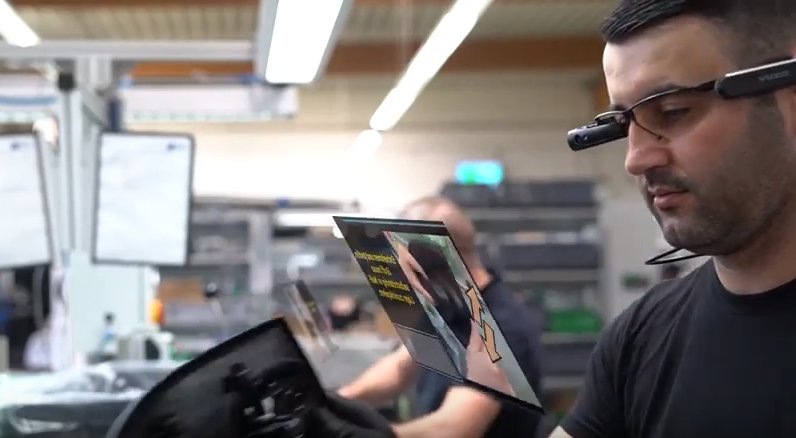 Google Unwanted Software Policy Compliance Statement

We hereby attest that the software application offered here is developed, owned and distributed by us for the purposes of process measurement to support  your continuous improvement initiatives; will not affect the performance of your system hardware or change any system  settings; is easily completely removable from your system; does not collect or transmit any private information in any form;  is not bundled with any other software; is free of malware.