Representative Name: Nikhil Kumar Joshi / Prashant Patil
Address: #27 First Floor, 18th Cross M.C.Layout, Vijayanagar, Bangalore.
Phone No: +91 80 412 75612 Mobile No:+91 99000 74532 Email:  sales@snic.co.in

































Timer Pro - The Ultimate Continuous Improvement Toolset
Timer Pro is the complete video-based measurement solution for those involved in Continuous Improvement, Lean Manufacturing, Industrial, Manufacturing and Process Engineering, Ergonomics, Operator Training, Six Sigma, Kaizen, SMED and 5S initiatives.
Timer Pro offers a single integrated solution to measure, identify and eliminate process waste to improve operation efficiency, reduce costs and document processes. Whether used with manual, automated or robotic processes, the highly visual Timer Pro interface increases the productivity of both content creators and their operations.
Video content created in Timer Pro provides Industry 4.0 operator training capabilities via web, smart glasses, tablet-based learning and work instructions aids.
Timer Pro uses Excel for its extensive range of classic process improvement reports for easy distribution to plant staff and management – the content consumers. Video content is linked to the Excel reports which can be played back directly from Excel without requiring  a Timer Pro license. 
Examples Where Timer Pro Professional Can Be Used
Over 1600 companies worldwide use Timer Pro in their Industrial, Manufacturing and Process Engineering, Kaizen, Lean and Six Sigma initiatives. Timer Pro's largest market segment is automotive followed by medical devices, engineered products, consumer products and electronics.
See All that Timer Pro Offers
The overview flowchart below presents Timer Pro's features and structure. The menu options on the left allow you to explore more detail of specific capabilities that may be of interest. The Free Demo download on the right will let you experience the quality of Timer Pro first hands.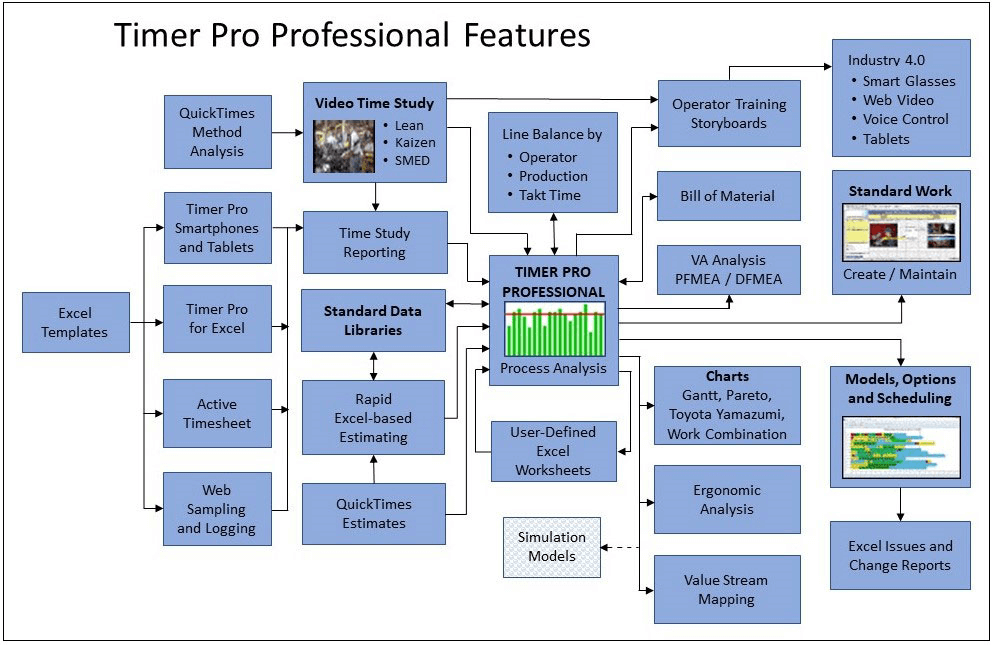 Google Unwanted Software Policy Compliance Statement

We hereby attest that the software application offered here is developed, owned and distributed by us for the purposes of process measurement to support  your continuous improvement initiatives; will not affect the performance of your system hardware or change any system  settings; is easily completely removable from your system; does not collect or transmit any private information in any form;  is not bundled with any other software; is free of malware.